The hospital has been advised that Gisborne Street will be undergoing tram track replacement works from the 3 February to 3 March 2023.
PATIENT PICK-UP AND DROP OFF INFORMATION BETWEEN 24 FEB – 3 MARCH
For carers, the patient drop-off and pick-up location has been temporarily moved to Morrisons Place which can be accessed of Albert Street during this time (highlighted in yellow below).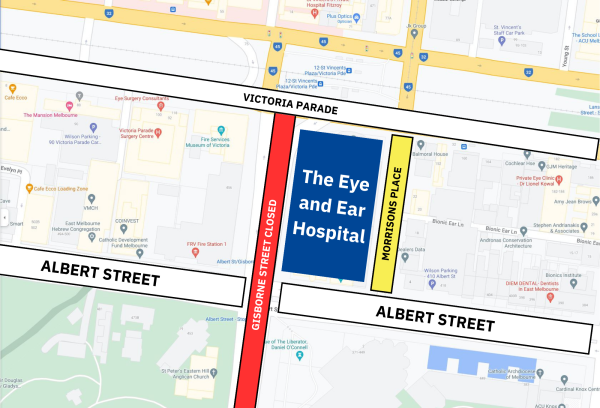 Gisborne Street will experience disruptions to traffic between Victoria Parade and Macarthur Street. The work will be carried out in two stages.
Stage 1 – Minor works starting from Friday 3 February to Thursday 23 February will include road disruptions from 9pm-5am every day including:
Lane and parking closures on Gisborne Street between Victoria Parade and Macarthur Street
Closure of the intersection of Gisborne and Albert streets as required
Medium-high level noise during this time
Vehicles, trucks, machinery and contractors on site
Stage 2 – Major works starting from 10pm Friday 24 February to 5am Friday 3 March will include:
24 hour works
Road closure and fencing on Gisborne Street between Victoria Parade and Macarthur Street
Intersection of Gisborne Street and Cathedral Place will be closed
On street parking within working zone will be closed
High level of noise
Detours for cyclists, pedestrians and traffic
Service changes to tram routes 11,12,109, 30 and 35 (City Circle)
To read more information about works and road closures, please visit www. www.yarratrams.com.au/projects/gisborne-street-east-melbourne-tram-track-works
To read more information about the tram detours, please visit Gisborne Street works – Yarra Trams