Getting to know your Baha sound processor
Overview of the Bone Conduction Implant
Bone conduction implant (Baha) systems are designed to assist people who have a conductive hearing loss or who have a very significant hearing loss in one ear only.
Baha systems consist of two main components: an externally worn sound processor (1) and a surgically implanted fixture with either a magnet or abutment (2).  The sound is picked up by the microphones on the sound processor, amplified and is transmitted directly to the inner ear (3) through vibration of the bone.  See figure 1 below.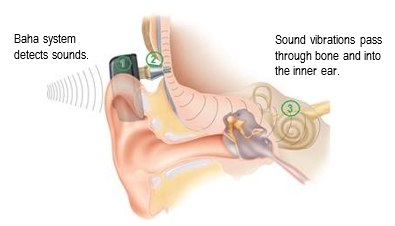 There are two Cochlear Ltd Baha systems that we currently use:  the Attract and the Connect.  The choice will be influenced by a person's level of hearing loss and other factors.  Your clinician will help guide you towards which system is best for you.
Baha Attract
The Baha Attract system (figure 2) uses a magnetic connection between the sound processor and the implant. The Baha Attract requires no break in the skin.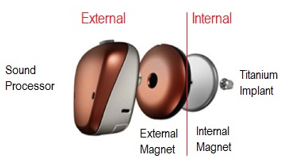 Baha Connect
The Baha Connect system (figure 3) uses a small abutment to attach the sound processor to the implant. This allows for a powerful transmission of sound through vibration as the processor has a direct connection through the skin to the bone.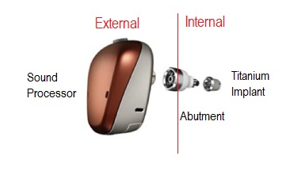 Baha sound processors
There are three sound processors available in Cochlear Ltd's Baha 5 family.  The sound processor that is right for you will depend on your level of sensorineural (nerve) hearing loss. Your clinician will recommend which is most suitable for you.
Baha 5
Suitable for up to 45dB sensorineural hearing loss

Baha 5 Power
Suitable for up to 55dB sensorineural hearing loss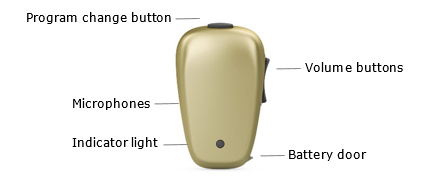 Baha 5 Super power
Suitable for up to 65dB sensorineural hearing loss