The Hospital's Education Precinct is conveniently located on the edge of the CBD, within short walking distance from public transport. The rooms are available to professional and community groups who are consistent in their mission and values to the hospital.
All booking enquiries please contact Kerryn Baker on (03) 9929 8528 or email room.bookings@eyeandear.org.au.
Rooms available:
Martin Family Auditorium and Foyer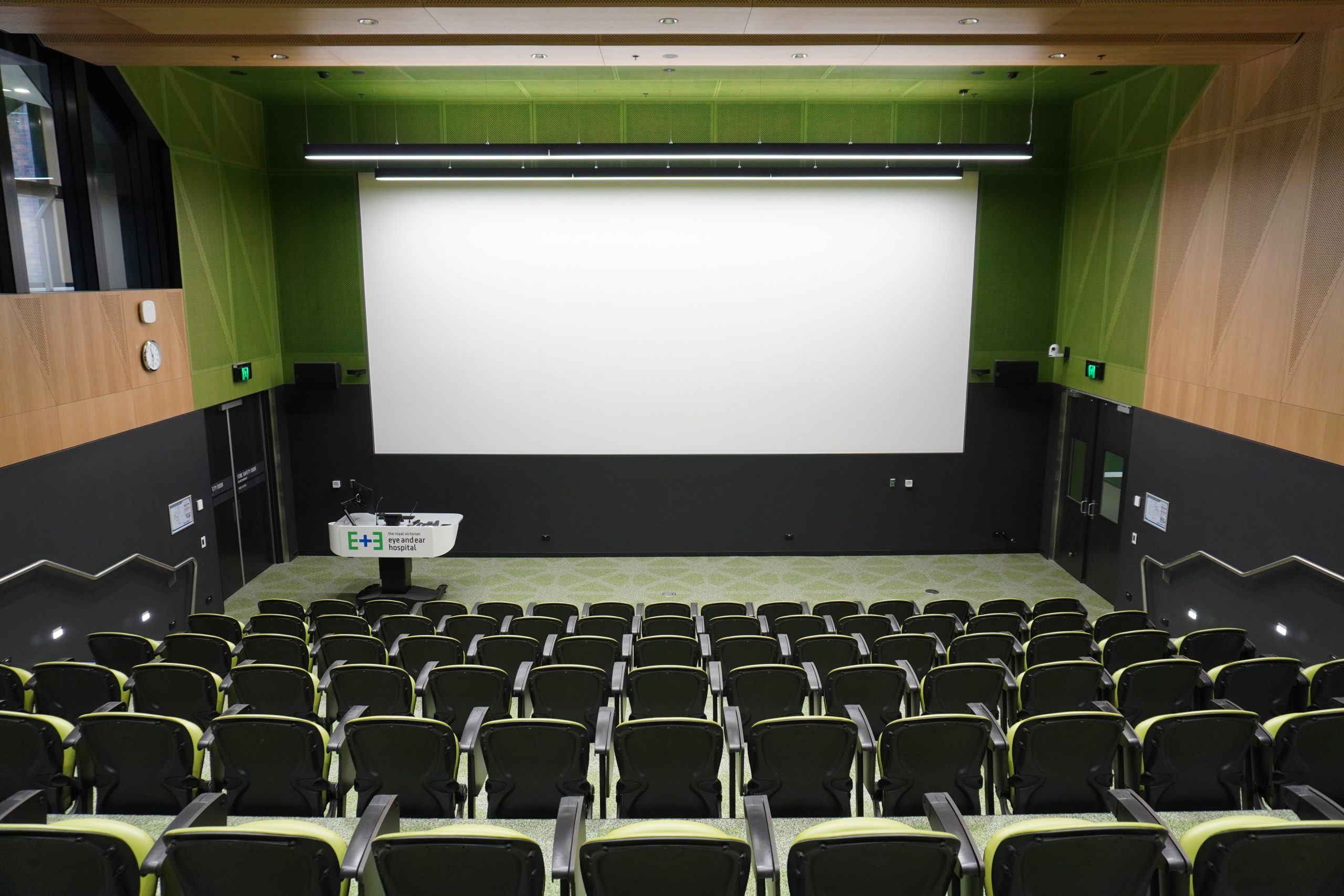 This state-of-the-art facility with advanced technology seats 126 people in air-conditioned comfort. The light-filled auditorium is equipped with an extensive collection of audio-visual equipment. All the equipment is controlled by a touch screen control panel located on the podium at the front of the auditorium. The touch screen operates the following equipment:
PC / Projector / Speakers
HDMI Connectivity for presentation screens
Lectern with built in microphone
Microphones (fixed and roaming)
Video Conferencing
A portable white board is also available.
A large foyer with tables for registration, tea breaks and meals are available to service seminars and conferences. This area is also suited for smaller presentations or forums, with tables and chairs available for configuration and can seat up to 30 people. AV equipment is also available in the foyer, and can be used as an overflow area from the auditorium with video streaming. The foyer can lead into the Collaboration Lounge as an additional breakout area. The foyer can be booked separately to the Auditorium.
Eating and drinking is NOT permitted in the Auditorium but is permitted in the foyer and Collaboration Lounge areas.  Fully equipped kitchen facilities are available for use near the Auditorium. Additional catering requirements can be arranged for a fee.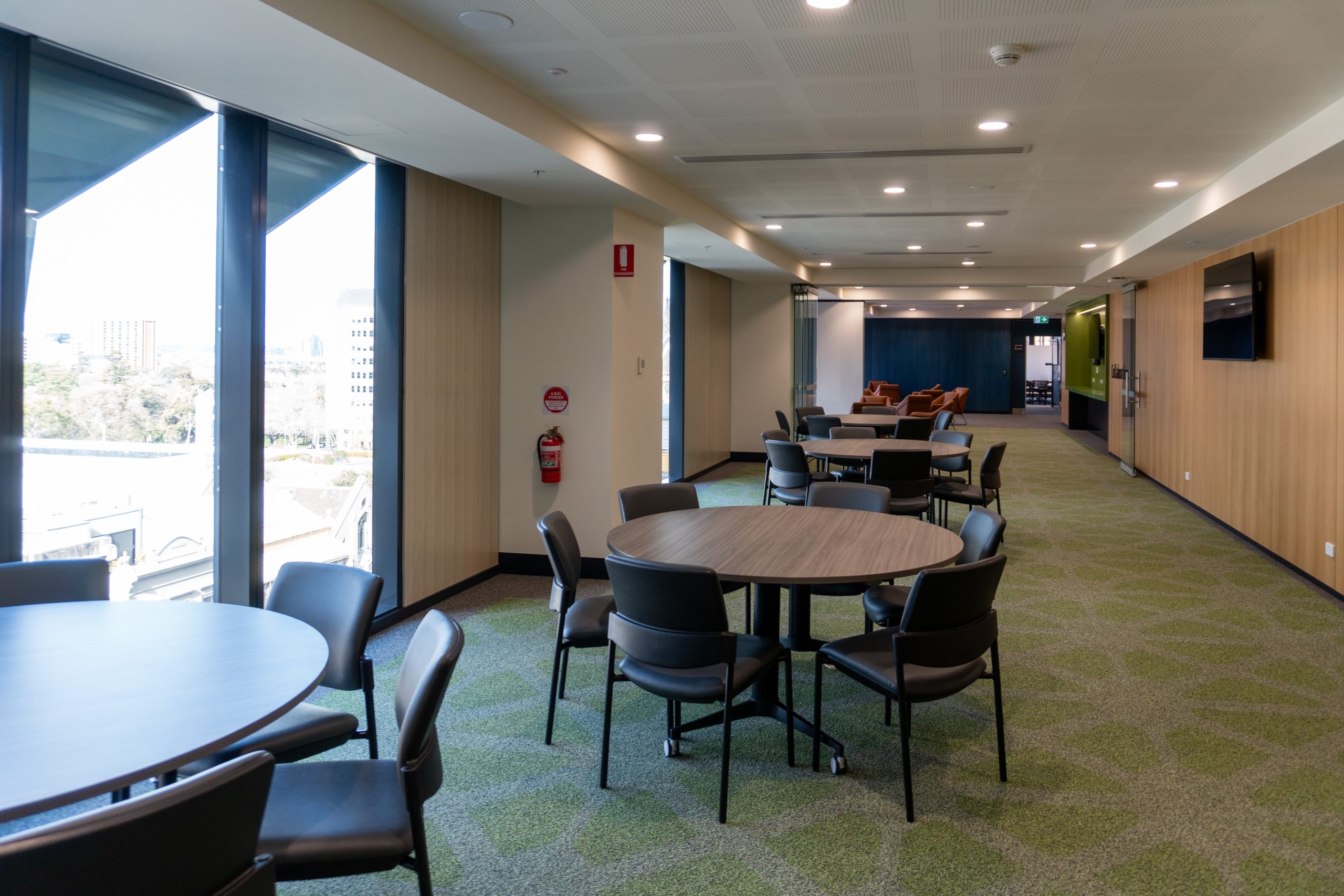 Collaboration Lounge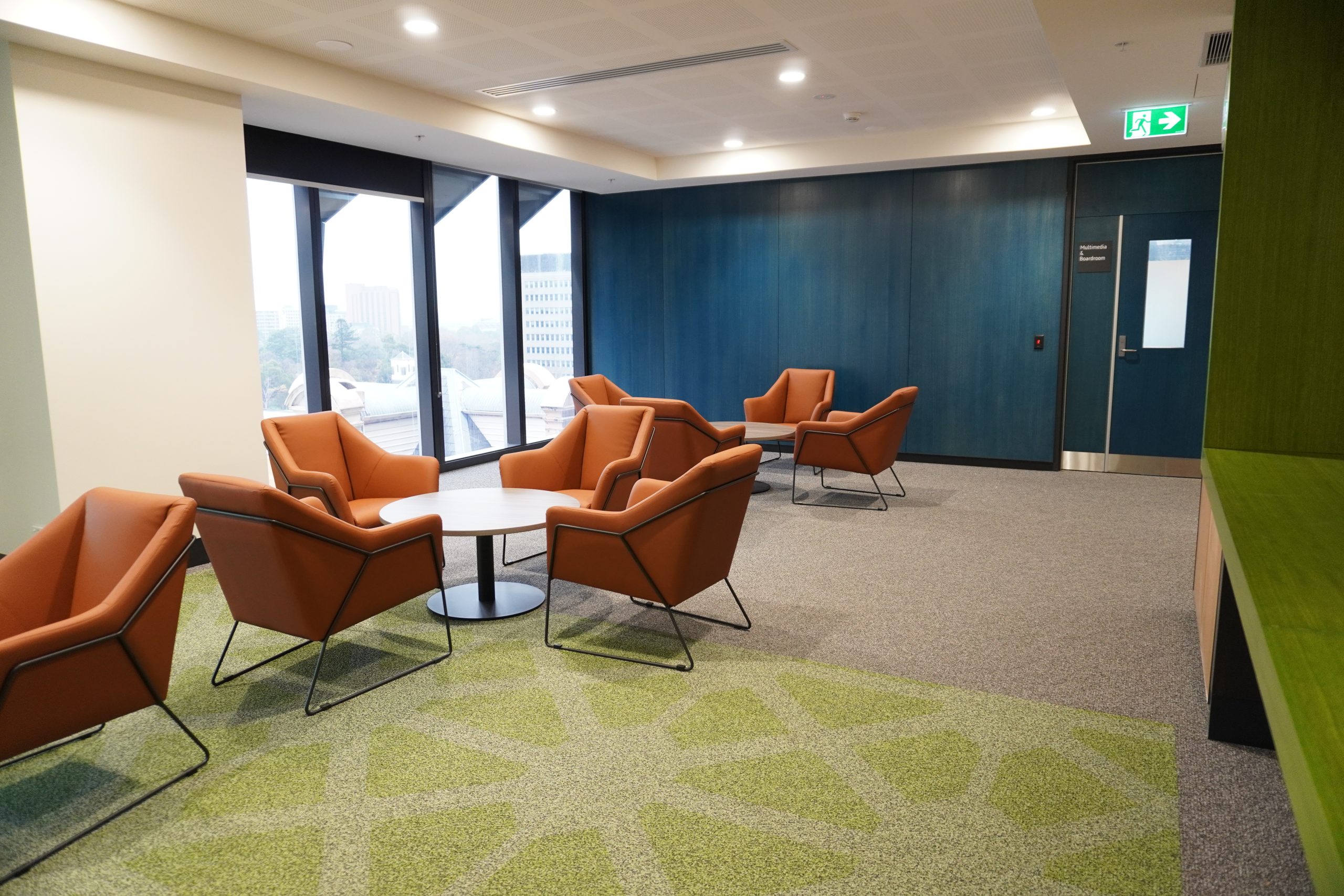 A large casual room, light filled with floor to ceiling windows. Furnished with comfortable chairs and coffee tables, the space suits groups wanting a less formal area to relax and brainstorm. The lounge can seat up to 16 people. AV equipment and whiteboard is also available. Fully equipped kitchen facilities are available for use adjacent to the Lounge.
Boardroom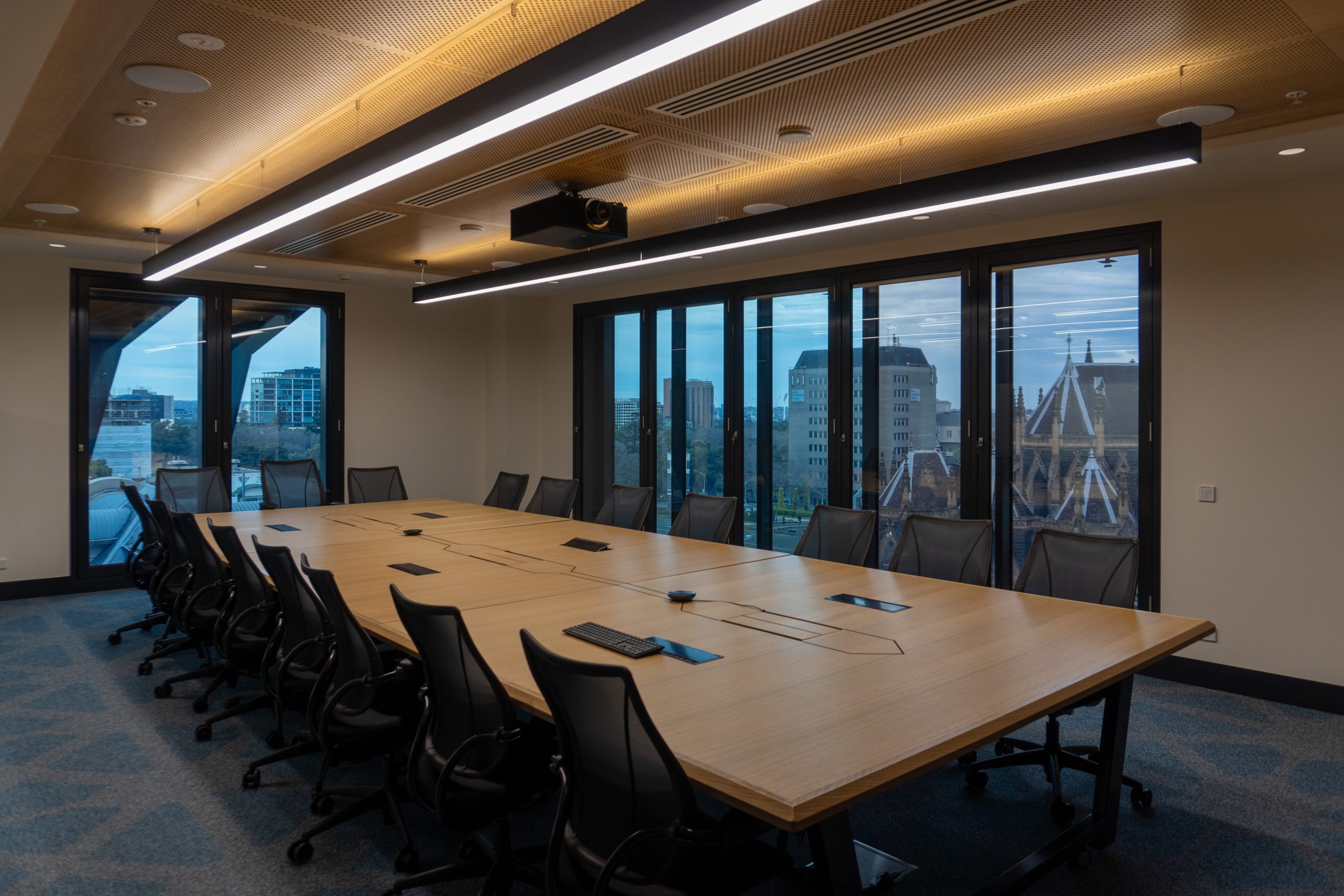 A large executive meeting room which overlooks a stunning view of East Melbourne and St Patrick's Cathedral, with comfortable chairs and a large table to seat 22 people.  The room has AV equipment, including a projector with HDMI connectivity. A portable whiteboard is also available.
There is also a waiting room to fit 6 people adjacent to the room. Fully equipped kitchen facilities are available for use.
Meeting Rooms
We have several meeting rooms available with seating ranging from 6-40 people with easily reconfigured tables, and fixed whiteboards. They provide a quiet and open atmosphere for meetings, discussion groups or education and training, whether intimate or on a larger scale. All rooms include a large screen television with PC and full video conferencing facilities. Some rooms have the option of being divided into two rooms.
Contact us for further information about the meeting rooms available.
Surgical Skills Laboratory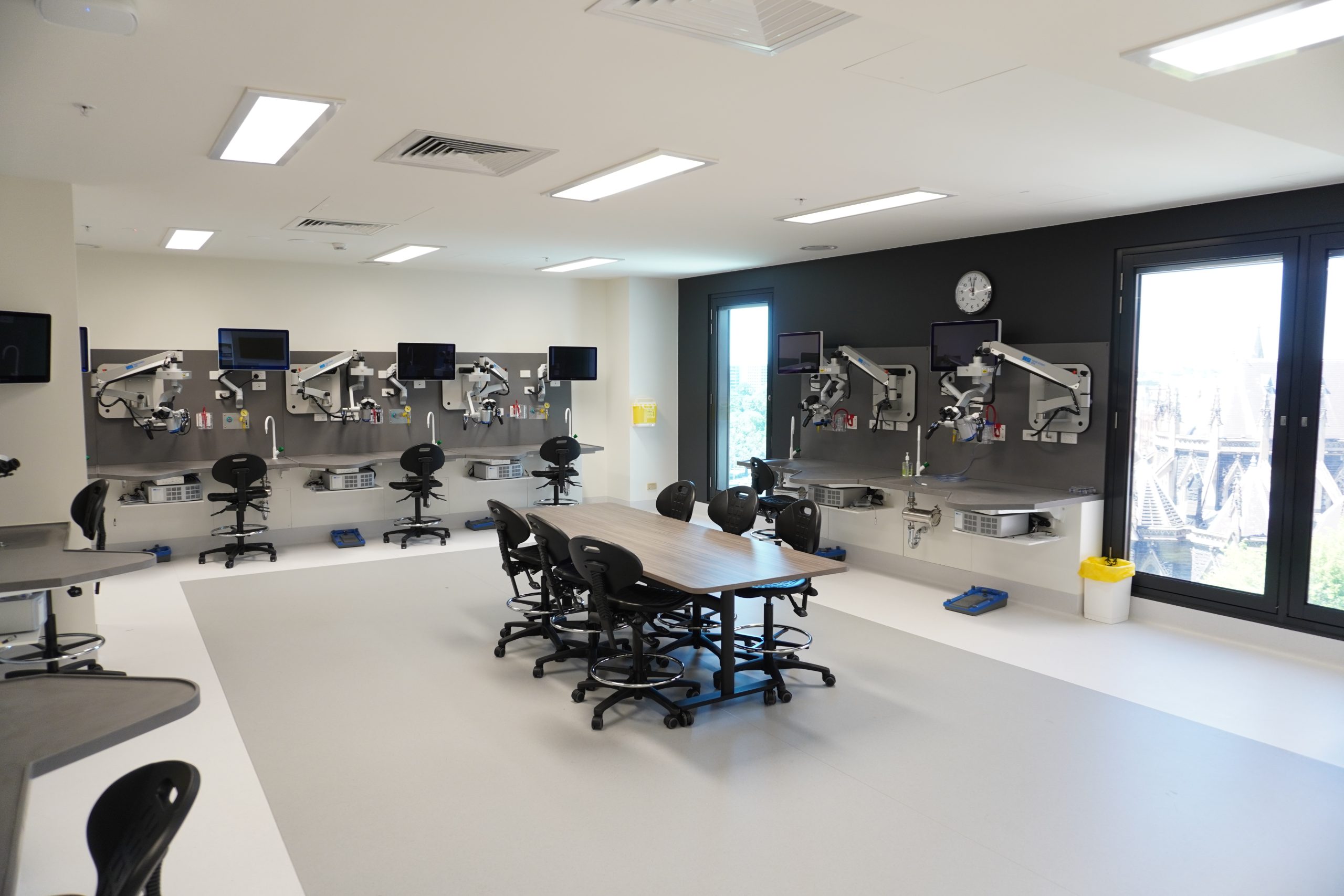 The surgical skills laboratory is well equipped to teach a variety of skills and procedures. The lab is setup with 9 workstations with state-of-the-art microscopes. Video streaming to the Auditorium is also available. This lab is best suited as an education and training space for health services clinical staff to teach practical skills. It is also set up to enable the delivery of cadaveric clinical skills training.
Clinical Simulation Room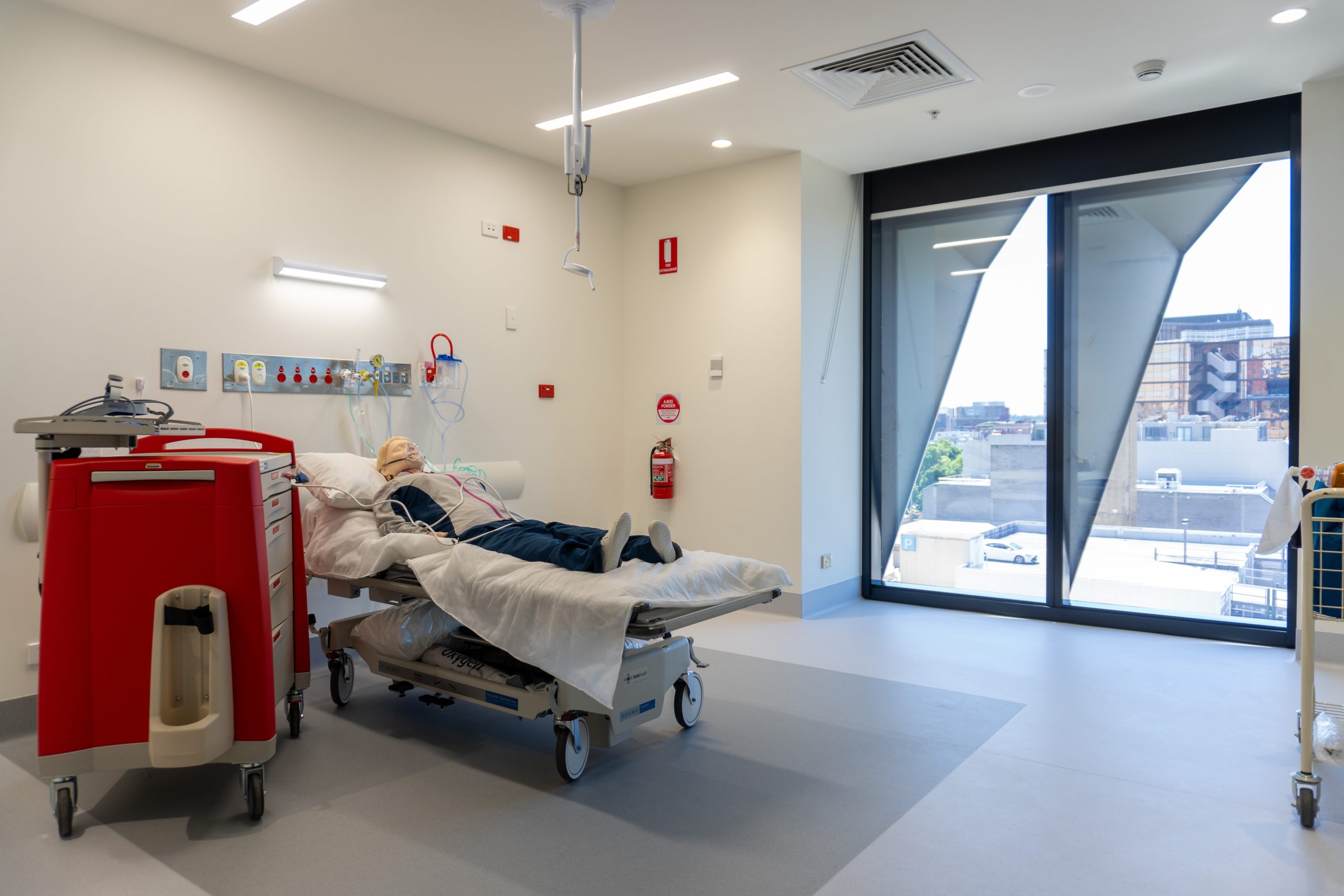 The computer training room is equipped with 10 PCs (9 workstations plus 1 teacher workstation) and is fully networked with a data projector, whiteboard, printer and internet access, making it an ideal space for software training.
IT Training Room
The computer training room is equipped with 10 PCs and is fully networked with data projector, whiteboard, printer and internet access, making it an ideal space for software training.
Equipment and Resources
The Education Precinct team will work with you in advance to ensure your event runs smoothly.
Additional equipment can be rented to add the finishing touches to your event. Please let the team know if you wish to have access to any of the following items:
Flip charts
Laptops
Laser pointers
Microphones
Trestle tables
Tablecloths
Basic tea/coffee facilities (instant tea/coffee, urns/airpots)
Multimedia and Audio Visual
All rooms are set up with audio-visual equipment and our ICT technicians will work with you to ensure your event runs smoothly.
Multimedia support and products will be added to your room hire package.
Users bringing their own laptops or running videos as part of their presentations are encouraged to consult with the team to ensure they are able to connect their equipment and run their presentations successfully.
Parking
We provide two parking options for guests to the Eye and Ear:
On site Wilson car park has pay per hour parking
Several surrounding private commercial car parks offer pay and display parking
Opening Hours
You are invited to host your next event between the hours of 8am and 8pm Monday to Friday, or 9am to 5pm on weekends. Extended hours can be negotiated.
Contact us
Education Precinct
Royal Victorian Eye and Ear Hospital
32 Gisborne Street
East Melbourne  Vic  3002
Phone: (03) 9929 8528
Email: room.bookings@eyeandear.org.au