You have been referred to the Allergy clinic for skin prick tests to allow for a diagnosis and an appropriate management plan of allergies. This is a simple test where potential allergens (e.g. dust mite or pollen) are introduced to your skin to determine possible reactions.
Please take note of the information below to ensure you can proceed with skin prick testing.
What to expect
 A history and examination is performed by the allergy clinic doctor and skin prick tests to a range of environmental allergens may be performed if appropriate.
Allergy skin prick tests are generally safe but may or may not be suitable for all sinus or nasal problems. On occasion, the clinic doctor may also decide to request blood tests, an x-ray, CT scan, or a lung function test.
This will occur after your visit at an external provider.
If your asthma is not well controlled, please contact the clinic to reschedule the appointment as it would be unsafe to proceed.
What to bring
A referral from your specialist as this is a Medicare bulk billed clinic. (Please note, specialist referrals are only valid for 3 months.)
Your Medicare card.
Any current medications you are taking especially nasal sprays, puffers, antihistamines.
A written list with details of your symptoms or allergic reactions.
If you have them please bring:

results of previous allergy tests, blood results or scans (chest or sinuses)
letters from other relevant specialists
Special instructions
Stop taking any antihistamine tablets or hayfever relief (eg Claratyne, Zyrtec, Telfast, Aerius, Phenergan, Polaramine) for 5 days before your appointment as these interfere with allergy tests.
If you are unable to stop your tablets due to the severity of your symptoms, you are still able to attend the clinic as we may use allergy blood tests as an alternative. In general, skin tests will not be conducted if you have continued on the antihistamine tablets
Do not stop any other medications, such as your asthma inhalers, steroid creams, anti-hypertensives or nasal sprays.
How long does it take?
We recommend you allow a minimum of 2 hours for your entire visit. The initial consultation usually takes at least an hour, however if additional testing is performed the overall clinic visit can take longer.
Where to find us
Location: Eye and Ear on the Park, 2 St Andrews Place, East Melbourne.
Check in at: Clinic D, Ground Floor – Outpatient Clinics. Please note this appointment is not at the main hospital.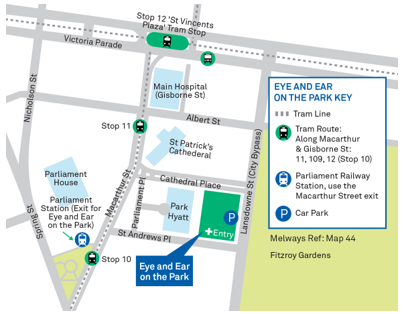 Contact us
If you need to cancel or change your appointment please contact Patient Services and Access on (03) 9929 8500.