The Victorian Cochlear Implant Program is a collaborative care program between The Royal Victorian Eye and Ear Hospital (Eye and Ear) and established, community hearing service providers across Victoria, creating accessible and truly state-wide cochlear implant (CI) service for Victorians.
Relationship between the Eye and Ear and Victorian Cochlear Implant Service providers
The Victorian Cochlear Implant Program is governed by the Eye and Ear.
To be included as part of the Victorian Cochlear Implant Program, hearing service providers and the audiologists involved with the program have participated in robust and thorough training program to ensure the services provided are of the highest standard and consistent with the services provided at the Cochlear Implant Clinic at the Eye and Ear Hospital.
Location of Victorian Cochlear Implant Services
Victorian Cochlear Implant Program services are in addition to established CI services in East Melbourne (Eye and Ear and Cochlear Care Centre), Geelong (Cochlear Care Centre) and Dandenong (Cochlear Care Centre). The figure below illustrates the location of available CI audiology services and contact details are listed in the associated table.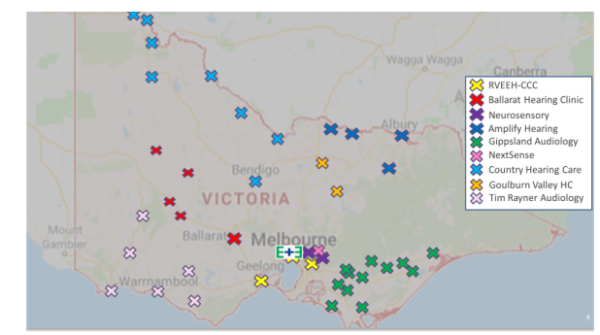 Services available locally
CI related audiological care for adults, including CI evaluation, CI programming and long-term audiology follow-up, and some aspects of the medical investigations can be conducted locally in collaboration with Victorian Cochlear Implant Program service providers. CI recommendation will be determined at multi-disciplinary team meeting hosted by the Eye and Ear and CI surgery will be facilitated by the Eye and Ear for both public and private patients.
Victorian Cochlear Implant Program service providers and their contact details
Provider
Location(s) of CI services
Website & Contact details
Cochlear Implant Clinic (the Eye and Ear Hospital)
East Melbourne
www.eyeandear.org.au
Ph: 03 9929 8624
Em: cic@eyeandear.org.au
Cochlear Care Centre (Cochlear Ltd)
East Melbourne, Geelong &
Dandenong
Ph: 1800 069 365
Em: carecentre.vic@cochlear.com
Amplify Hearing & Diagnostics
Albury, Cobram,Yarrawonga &
Wangaratta
www.amplifyhearing.com.au
Ph: 02 6021 7500
Fax: 02 6021 7544
Em: info@amplifyhearing.com.au
Ballarat Hearing Clinic
Ballarat (Ararat, Donald, St Arnaud
& Stawell)
www.ballarathearingclinic.com.au
Ph: 03 5333 2999
Fax: 03 5333 2964
Em: reception@ballarathearingclinic.com.au
Country Hearing Care
Bendigo, Echuca & Mildura
www.chcare.com.au
Phone: 1800 432 748
Em: admin@chcare.com.au
Gippsland Audiology
Bairnsdale, Sale,Traralgon & Warragul
www.gippslandaudiology.com.au
Ph: 1300 090 806
Em: wehearyou@gippslandaudiology.com.au
Goulburn Valley Hearing
Shepparton,(Euroa)
www.gvhearingclinic.com
Ph: (03) 5821 6600
Fax: (03) 5831 5111
Tim Rayner Audiology
Warrnambool, Horsham & Portland
www.timrayneraudiology.com.au
Ph: 03 5560 5833
Em: reception@newtoncottage.com
Neurosensory
Box Hill
www.nsu.com.au
Ph: 03 9898 0777
Fax: 03 9898 0230
Em: boxhill@nsu.com.au
NextSense
Blackburn
www.nextsense.org.au
Ph: 1800 211 123
Em: victoria@nextsense.org.au
*Locations in italics have limited CI services, please contact Clinic directly
If you are interested in attending one of the listed services, please contact them directly to discuss your options and any associated costs related to their services.
Service cost and exchange of information
All audiology services provided at Eye and Ear and the Cochlear Care Centres will be Medicare billed at no out of pocket cost.
Some Victorian Cochlear Implant Program providers will charge an out of
pocket fee and you should discuss this directly with them prior to attending
their service.
Medical and audiological information for those attending a Victorian Cochlear Implant Program service will be shared with the Eye and Ear for the purpose of monitoring and multidisciplinary team decision making. Deidentified information may also be used for the purpose of research unless requested otherwise.
Further information
For further information or to discuss your service options, please contact the Victorian Cochlear Implant Program at vcip@eyeandear.org.au or call (03) 99298624