The Royal Victorian Eye and Ear Hospital (Eye and Ear) has recorded a substantial increase in men presenting to the Emergency Department with work-related eye trauma.  The 41% growth over the past 5 years likely indicates a lack of awareness and/or adherence to eye safety procedures.  The theme for World Day for Safety and Health at Work 2023 is 'A safe and healthy working environment is a fundamental principle and right at work' which speaks to the need for collective responsibility in preventing workplace accidents.
Eye and Ear Ophthalmologist and Head of Clinic A/Prof Penelope Allen noted: "This increase in serious workplace eye injuries is cause for alarm.  We are seeing more and more young males losing vision though these sorts of incidents"
Tradespeople and Eye and Ear patients, Mark Swales and Elia Koyanasau both spoke about the impact that sustaining serious eye trauma in the workplace had had on them.
Mark started his carpentry apprenticeship at 18 years old, seven years later an unusual accident whilst working led to him losing a majority of his vision in his right eye.
Whilst using an electric plane, a tool used commonly in the carpentry field, Mark was shaving down a stud when the lead got caught.
"I pulled the cord towards myself to get some lead while keeping it on. As I did a piece of metal came out of the exhaust and went straight through the middle of the eye."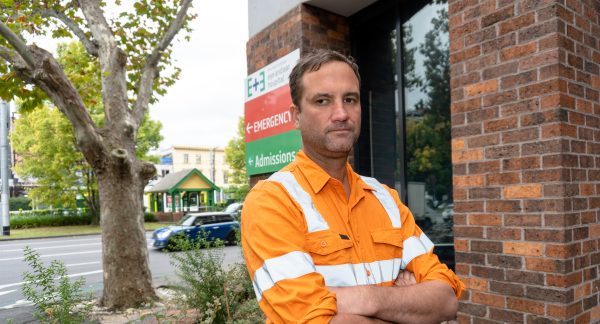 Mark Swales standing in front of the Eye and Ear on Victoria Parade
Mark wasn't wearing safety glasses, which he had rarely ever done whilst working. "PPE wasn't really enforced to be worn at all times. And since I've talked to a lot of carpenters since and seldom do they wear eye protection when using that tool."
After being rushed to the nearest hospital in Kilmore, he was immediately called an ambulance and sent to the Eye and Ear Emergency Department where a near four-hour surgery took place in an order to save his eye.
18 years after the incident, the physical effects of the accident have left Mark with blurry vision, but the mental impacts also linger. "I'm still dealing with issues today."
"[Trades] people should be wearing eye protection all the time. I pull people up on it…I don't get angry about it, it's just please think about it."
Elia Koyanasau moved to Melbourne from Perth in 2019 to work as a pre-cast concreter. At the end of one shift, Elia had been using a pressure washer to clean up the site. After finishing the task, he went to inspect some of the production line, but the tool had not been turned off at the power.
"The last thing I remembered like just boom. A part of the pressure washer struck me across the bridge of my nose and hit my right eye, …I asked how bad it was and if one of my colleagues would take a picture, they said no. So, I knew it was a pretty bad."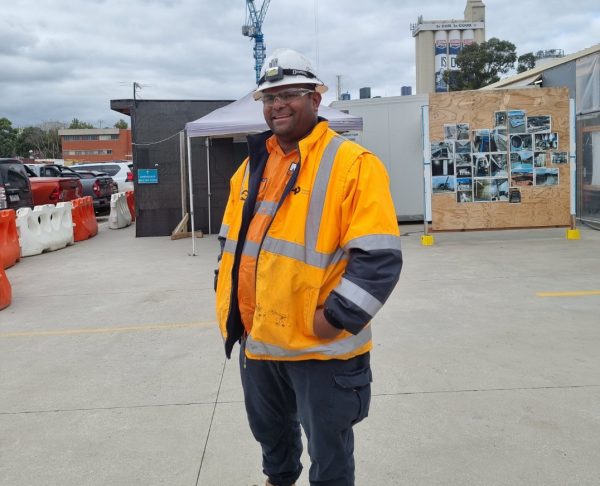 Elia Koyanasau lost sight in one of his eyes during an incident in 2020
Elia was taken directly to the Emergency Department at the Eye and Ear where he underwent surgery.
Ironically, Elia has always been a stickler for safety, but his case demonstrates the continual vigilance required when it comes to workplace safety. "I was wearing my normal safety glasses, but I had taken off the face shield because I considered my work finished."
Wearing eye protection is important, but Elia says knowing when it's safe to take off eye protection is just as important. In his case, his injury was sustained because he didn't recognise the risk the washer posed by not being switched off at the source.
Elia cannot see out of his right eye…"just brightness, I'm just sitting in the room here, it's just light and shapes", and like Mark, Elia's mental health also suffered.  "We bottle it down and it doesn't come out good, it affects your loved ones, your family."
The Director of the Eye and Ear's Emergency Department, Dr Carmel Crock commented:
"We see around 1800 corneal foreign body injuries a year.  It is worth remembering 90% of eye injuries are generally preventable by using appropriate eye protection.
Elia is grateful for the post injury support offered by his workplace and is now a passionate advocate for mental health and safety at his workplace, using his experiences to help others as a Mental First Aider.