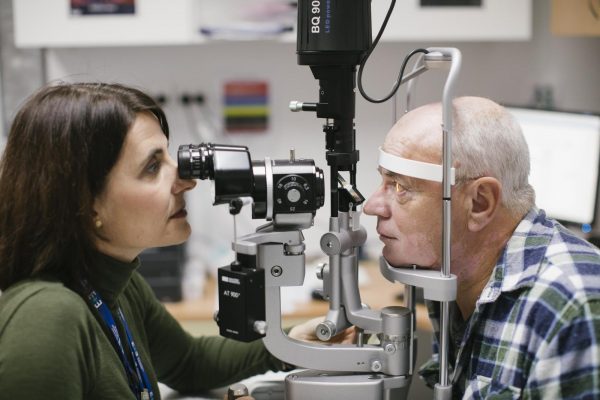 The Royal Victorian Eye and Ear Hospital and the Victorian Aboriginal Health Service (VAHS) began a partnership in 2012 and launched the VAHS Ophthalmology Clinic in 2018. The clinic is the first of its kind in Australia to operate in an Aboriginal Community Controlled Health Organisation (ACCHO) and offers a full suite of ophthalmic care utilising state-of-the art equipment.
Closing the Gap refers to Australia's commitment to achieving equality for Aboriginal and Torres Strait Islander people in health and life expectancy. The clinic supports the Closing the Gap policy by improving access to specialist eyecare for the Aboriginal and Torres Strait Islander community across Victoria.
The clinic is staffed by two Orthoptists and three Ophthalmologists, supported by VAHS staff and an Aboriginal Health Liaison Officer from the Eye and Ear.
Natalie Teri has been an Aboriginal Health Liaison Officer at the Eye and Ear since 2018, and works closely with VAHS to create a culturally safe environment for patients to receive their specialist care.
"The VAHS Ophthalmology Clinic helps to improve the quality of life for Aboriginal and Torres Strait Islander patients who are experiencing vision loss or impairment. The community experiences a higher rate of preventable medical conditions. With access to dedicated services such as this clinic, patients can improve their chances of identifying and treating preventable conditions earlier," explains Natalie.
The dedicated ophthalmology clinic runs fortnightly on Wednesdays, a General session in the morning and General/Paediatric session in the afternoon, offering services including:
Cataract assessment
Paediatric eye assessment
Streamlined surgery pathways
Laser and intravitreal injections
Cultural support and continuity of care
The clinic offers a full suite of ophthalmic care utilising state-of-the art equipment, such as:
Humphrey Visual Field Analyser used to measure central and peripheral vision to assist in the monitoring of glaucoma
Optical Coherence tomography (OCT), used to take cross-sectional pictures of the back of the eyes
Optical Biometry to measure anatomical characteristics of the eye required for cataract surgery
Laser eye machines for treating diabetic eye diseases
If you would like to refer your patient to the VAHS Ophthalmology Clinic please post or fax your referral directly to:
Victorian Aboriginal Health Service (VAHS)
Ophthalmology Clinic
186 Nicholson Street, Fitzroy VIC 3065
Phone: 9419 3000 or FAX: 9419 1208