Last week we celebrated our staff, volunteers and consumer representatives at a special thank you event that incorporated our prestigious Excellence Awards and Length of Service Awards.
The night was filled with appreciation, collegiality and memories as we celebrated our past when presenting our Staff Service awards, with the longest recipient having worked for the hospital for 45 years.
We also looked forward and took the opportunity to acknowledge those staff whose contributions have made a positive impact on our patients.
Congratulations to our staff who received an Award:
Board Chairs Medal – Professor Stephen O'Leary
Professor O'Leary has dedicated his career to the treatment of hearing loss. He holds the William Gibson Chair of Otolaryngology and has worked as both a surgeon and a scientist at the hospital, the University of Melbourne and the Bionic Ear Institute since 1999.
Throughout his career Stephen has been a passionate advocate for improving the ear care of Aboriginal and Torres Strait Islander people.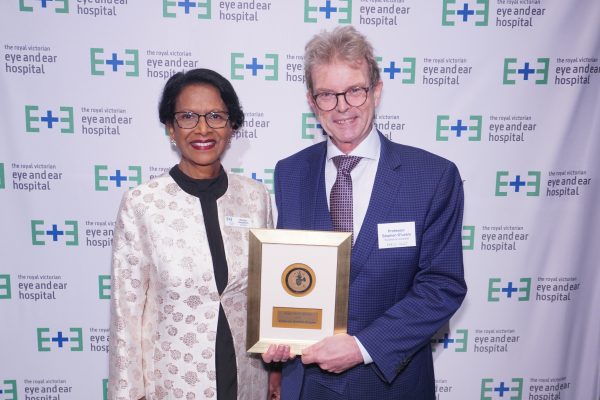 Board Chair, Sherene Devanesan, and Professor Stephen O'Leary
Administrative Excellence Award – Geraldine Apswoude
The Medical Workforce Unit is an integral part of the Eye and Ear. The manager of this team needs a very specific skill set to do the role. Scheduling hundreds of doctors into 80 clinics, 8 theatres and a 24/7 ED is no easy task.
Geraldine has worked tirelessly and at times almost singlehandedly to ensure the smooth functioning of this unit. Her role is exceedingly demanding, yet she always goes that extra mile to ensure a seamless delivery of service.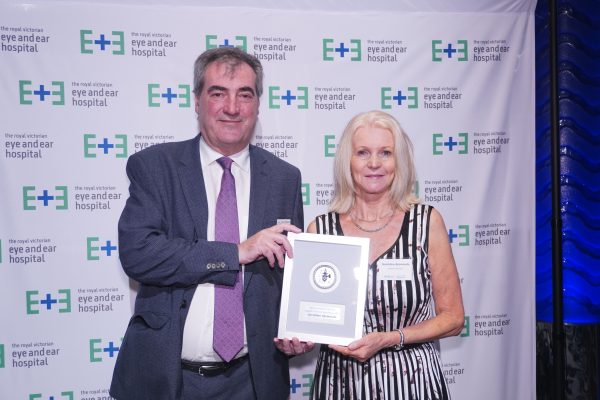 Executive Director, Corporate Services and Chief Financial Officer, Danny Menunni, and Geraldine Apswoude
Allied Health Excellence Award – Nichola Baker
Nichola always puts the patient first and strives for the best outcomes for our patients.
She unfailingly offers support and guidance to the people she works with, and is dedicated to ensuring the clinic offers the best service possible to patients and referrers.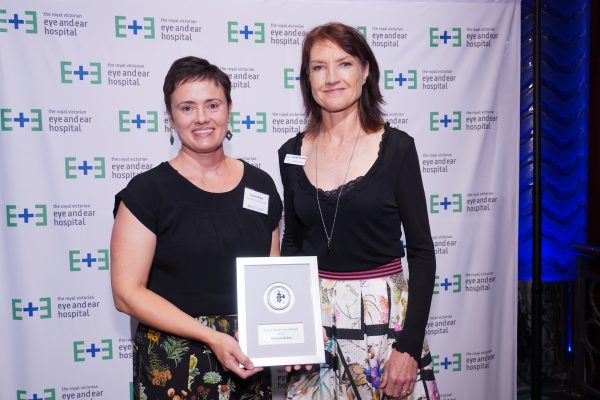 Executive Director, People and Communication, Loretta Sheales, and Nichola Baker
Nursing Excellence Award – Cam Moral
Cam is one of our original Ear Care nurses and now supports the training of new staff and has presented at the nursing study day. She also works at our outreach clinics at the Victorian Aboriginal Health Service, providing nursing support to the medical team and patients.
She further demonstrated her passion for nursing and patient care, volunteering to go out to the community to work in the testing sites and vaccination hubs.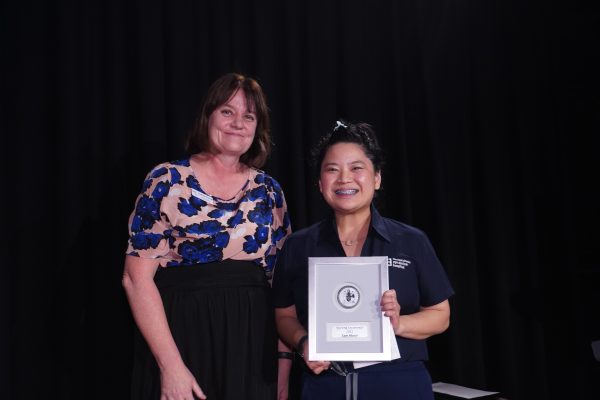 Executive Director of Operations and Chief Nurse Officer, Leanne Turner, and Cam Moral
Dr. J Aubrey Bowen Medal – Dr Tricia Dew
Dr Drew undertakes her responsibilities with great diligence, and is committed to enhancing governance processes and systems within the hospital.
Her motivation stems from a desire to improve outcomes for patients and staff and to uphold the hospital's reputation for providing the highest quality of care. She demonstrates great leadership in all her work.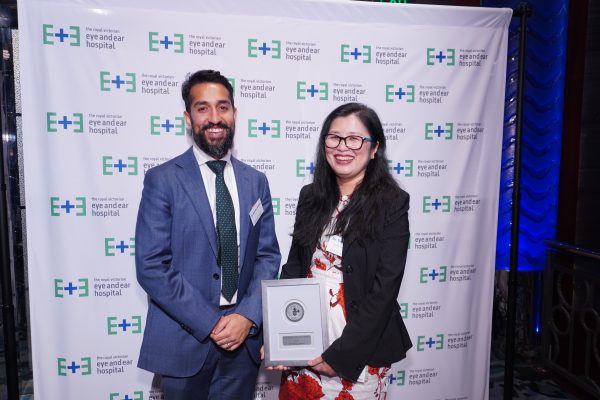 Executive Director Medical Services and Chief Medical Officer, Dr Birinder Giddey, and Dr Tricia Drew
CEO's Team Award – Surgical Bookings Unit / Preadmission
During the rapid onset of COVID, all surgical activity was reduced to emergency and semi-urgent cases only. This team came together in a huge effort to contact patients and doctors in response to the government mandated changes to schedules.
This small team had to cancel and reschedule hundreds of patients multiple times. However, even when under enormous pressure, they continued to communicate to our patients with care and empathy, which is everything our hospital strives for.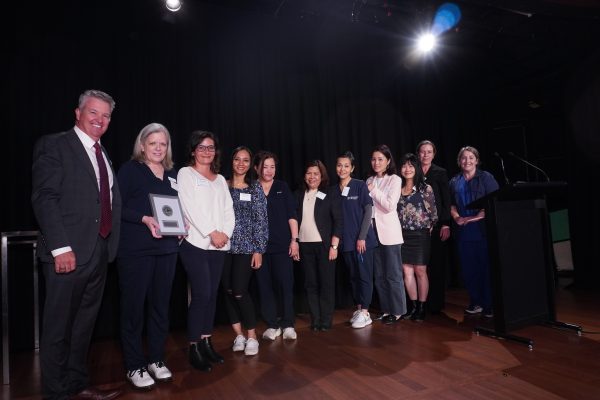 Chief Executive Officer, Brendan Gardner, with some of the Surgical Bookings and Preadmissioin team