On International Nurses Day, we recognise the outstanding work our nurses, and nurses all around the world.
Our nurses are integral to our hospital. A nurse at the Eye and Ear isn't just the nurse on the ward or in ED, our nurses provide support across 14 different hospital departments.
One of these departments is our specialist clinics, where a majority of our patients are seen and referred to.
We spoke to Nurse Cam, a specialist clinics nurse whose commitment and dedication to her patients and her colleagues saw her receive the Nursing Excellence Award at the hospital.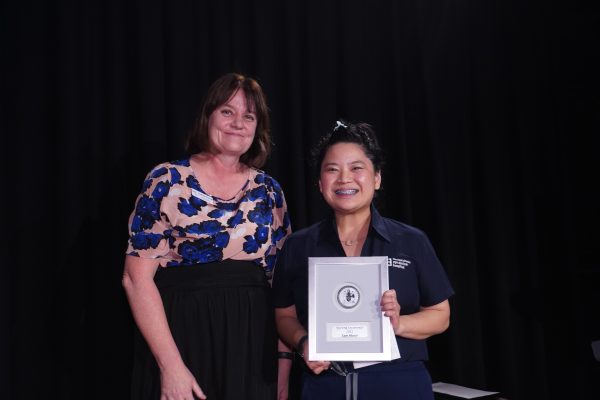 Nurse Cam receiving the Nursing Excellence Award from Executive Director of Operations and Chief Nursing Officer, Leanne Turner
How long have you been nursing, and what inspired you to become a nurse?
For far too long (LOL). I started at the age of 19 in a private endoscopy clinic and expanded myself in the field of gastroenterology nursing. Somehow, I managed to work my way into the Eye and Ear and have been very fortunate to be with this amazing organisation for 10 years now. Sometimes you love one thing, only to realise that there is another path out there for you. To be quite honest I actually wanted to be a clown. I love to entertain and make people happy. My parents obviously thought this wasn't going to be something I could do long term so with every ounce that Mum had, she helped me through my nursing degree and has helped me along my career as a nurse. I guess in a way I now get to entertain and make my patients happy! Plus, most of my Aunties are nurses so I am honoured to be following in their footsteps too.
What do you like about working at the Eye and Ear?
I love working at the Eye and Ear as I am able to work with so many wonderful and amazing people! Some have retired and moved on but I call them my family. They make coming to work the best thing in my life every day and without them I wouldn't be where I am a nurse today. Working at the Eye and Ear has allowed me to expand my horizons and views on traditional nursing. We are a specialised hospital so we do a lot of specialty nursing that you would not do at a general hospital.
Last year you received the Nursing Excellence Award, what did winning this award mean to you?
It means a lot to be honest: I'm very humbled and honoured to win this prestigious award but as I always said nursing is never an individual recognition. I owe a lot to my family here in the Specialist Clinics Team and cannot forget one of the best managers – Mr Toby.  And of course, Ward 8 where my career at the Eye and Ear first began. 
As we celebrate International Nurse Day, the theme for this year is 'our nurses, our future'. What message would you like to share with other nurses?
To my fellow nurses do not undervalue ourselves, but know that our passion, knowledge and experience will help us practice at our best. We are not limited by the scope of our registration; we can perform and excel in what we do in providing care.