As a world leader in eye and ENT treatment, orthoptists play an integral role in our success as a specialist hospital. To celebrate Orthoptics Awareness Week (OAW), we are taking an opportunity to showcase the significant role orthoptists play in global eye health, as well as the change and growth the profession has seen since the early twentieth century.
Orthoptist Pelin has worked at the Eye and Ear for five years, building her career path within a multidisciplinary team of specialists. We spoke with Pelin to find out more about her role as an orthoptist, some of the greatest rewards and challenges involved in the profession, and some advice she might have for aspiring orthoptists in 2022.
Orthoptics Awareness Week (OAW) highlights Orthoptists across Australia, helping to promote the profession and celebrate the hard work orthoptists do. What does this week mean to you?
Orthoptics Awareness Week (OAW) is a fantastic week that recognises the amazing work that orthoptists do. Our profession began in diagnosing and treating misalignment of the eyes called strabismus. The profession has evolved a lot over the years and we have developed expertise in a range of eye conditions.
Can you outline some of the best things about being an orthoptist?
I think for many of us it's the satisfaction that comes with building rapport with our patients and helping them on their journey to preserve or regain sight. It is also a very rewarding experience when you see patients come in post-treatment and witness how much their vision has improved.
Can you outline some of the biggest challenges that come with being an orthoptist?
It can be quite challenging to tell a patient they won't get their vision back or that it won't be as good as it was before, but it's important that we do this with empathy and provide ongoing support.
Sometimes we have patients who don't follow their treatment plan and it's important that we educate these patients and encourage compliance, or identify why they are struggling to do so. For example, they may experience difficulty self-administering eye drops in which case we can propose alternatives.
How would you describe your experience working as an orthoptist at the Eye and Ear?
I feel very privileged to work here at the Eye and Ear hospital within a multidisciplinary team. We get to work alongside clerks, nurses, medical photographers and doctors. Everyone supports each other and plays an integral role in ensuring the patients have a memorable journey and receive the best care possible.
This year's OAW theme is 'Where can orthoptics take you?' Where has orthoptics taken you?
Many orthoptists undergo further training and study throughout their career to gain a wider knowledge base. This enables them to perform much more specialist, advanced or extended roles. You get to meet many inspiring individuals along the way who you learn so much from.
We have an orthoptic-led cataract clinic here at the Eye and Ear and I am very excited to be working in this area soon.
Last December Pelin was presented with the Allied Health Award at the Eye and Ear 2021 Annual General Meeting (AGM).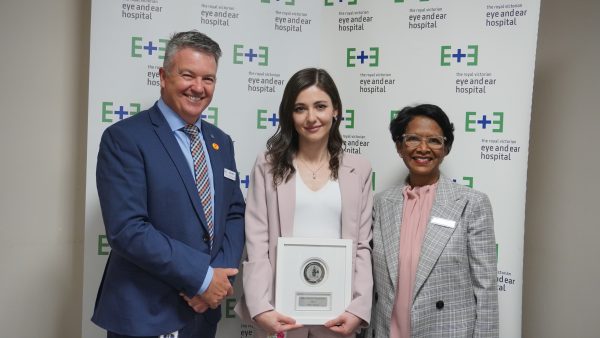 Coming in for an eye appointment? Find out everything you need to know here.