It was the simplicity of it that first struck Dr George Kong: an affordable device that many people already owned that could monitor visual fields for people with the chronic eye condition glaucoma and help avoid vision loss. And it could be done from the safety and convenience of home.
Dr Kong, a glaucoma specialist and general ophthalmologist at the Royal Victorian Eye and Ear Hospital's Department of Opthalmology, has, with collaborator Professor Algis Vingrys from Melbourne University's Department of Opthalmology and Vision Science, developed an App which allows patients with glaucoma to monitor their visual fields on a simple iPad, reducing the need for patients to travel into a clinic.
"We were initially thinking it could be used as a portable visual field device to improve access to glaucoma care in remote locations," Dr Kong says, "because you can take it anywhere quite easily as compared to the standard visual field machine that has a very large footprint and is difficult to manoeuvre. Then we realised that there were a lot of patients with iPads at home. We thought 'Let's see whether it's possible for patients to take an iPad and do a visual field test at home."
The development of the software was the beginning of an exciting breakthrough: it meant that affordable, every-day and easy-to-use technology could be used instead of requiring a patient to travel to a clinic. Dr Kong worked on modelling which showed that if patients were able to do visual field testing frequently at home it would enable detection of the progression of glaucoma two years earlier than if the tests had been performed in a clinic.
With the ageing population there is increasing prevalence of patients with glaucoma who need on-going monitoring."
"The health service is constantly struggling to keep up with monitoring patients who may or may not need intervention when they come into the clinic. So using new technology like this would help identify patients who most need intervention. We would be able to spend more clinical resources on those patients who are progressing, and we can possibly conserve some resources on patients who appear to be stable."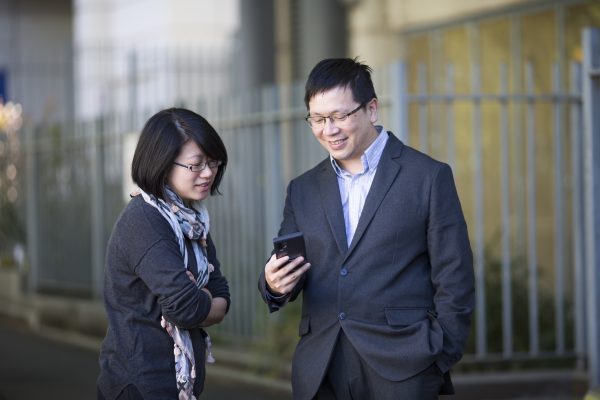 Dr Kong published his findings of a pilot home monitoring trial for glaucoma patients in the prestigious American Journal of Opthalmology in March. The study showed the App was able to test visual field at home comparable to testing using the standard machines in a clinic.
Like many innovations, the idea met with initial skepticism. "One of the obstacles we initially had was people's disbelief that you could actually do a visual field test using a commercial-based computer screen," Dr Kong says. "They thought you'd have to have very expensive equipment."
Dr Kong said the convenience and efficiency of testing on an iPad – it takes just three minutes to test each eye – meant much greater testing rates. "Often we don't monitor patients frequently enough," he says. "We sometimes get patients coming into the Hospital with vision loss due to glaucoma without them knowing. If we see patients every six months they could get worse in between. In the time of COVID and the problems getting appointments promptly this can become an increasing issue."
The App received funding support from the Royal Victorian Eye and Ear Hospital Early Career Research Grant, Glaucoma Australia, Perpetual Trust Grant as well as the Opthalmic Research Institute of Australia and Centre for Eye Research Australia's Innovation Fund. It has attracted interest internationally.
This innovation places the patient at the centre of their care. As we progress through our hospital redevelopment, we look forward to facilitating future opportunities in a new space better equipped to support this research.
As part of RANZCO's 52nd Annual Congress, Dr George Kong won the Gerard Crock Trophy for Best Paper, Home monitoring of visual field for glaucoma patients using tablet device: 12-month outcomes.