Most of you would be familiar with our kind, red-vested volunteers who donate their time to assisting patients around the hospital in many ways.
COVID-19 changed a lot of things at the hospital, including the ability for our volunteers to come on-site due to restrictions across the health sector. Throughout that time, the volunteers kept in regular touch via virtual meetings, and fortunately, at the end of last year, the restrictions eased and we began to welcome volunteers on-site again.
In addition, our Consumer Representatives also came back on-site. Consumer Representatives contribute their time and experience as members of the community and previous patients. They work across several different committees and projects.
Peter Rushen (pictured right) is one of our volunteers who began his volunteering journey as a Consumer Representative. We spoke to Peter about his experience in both opportunities.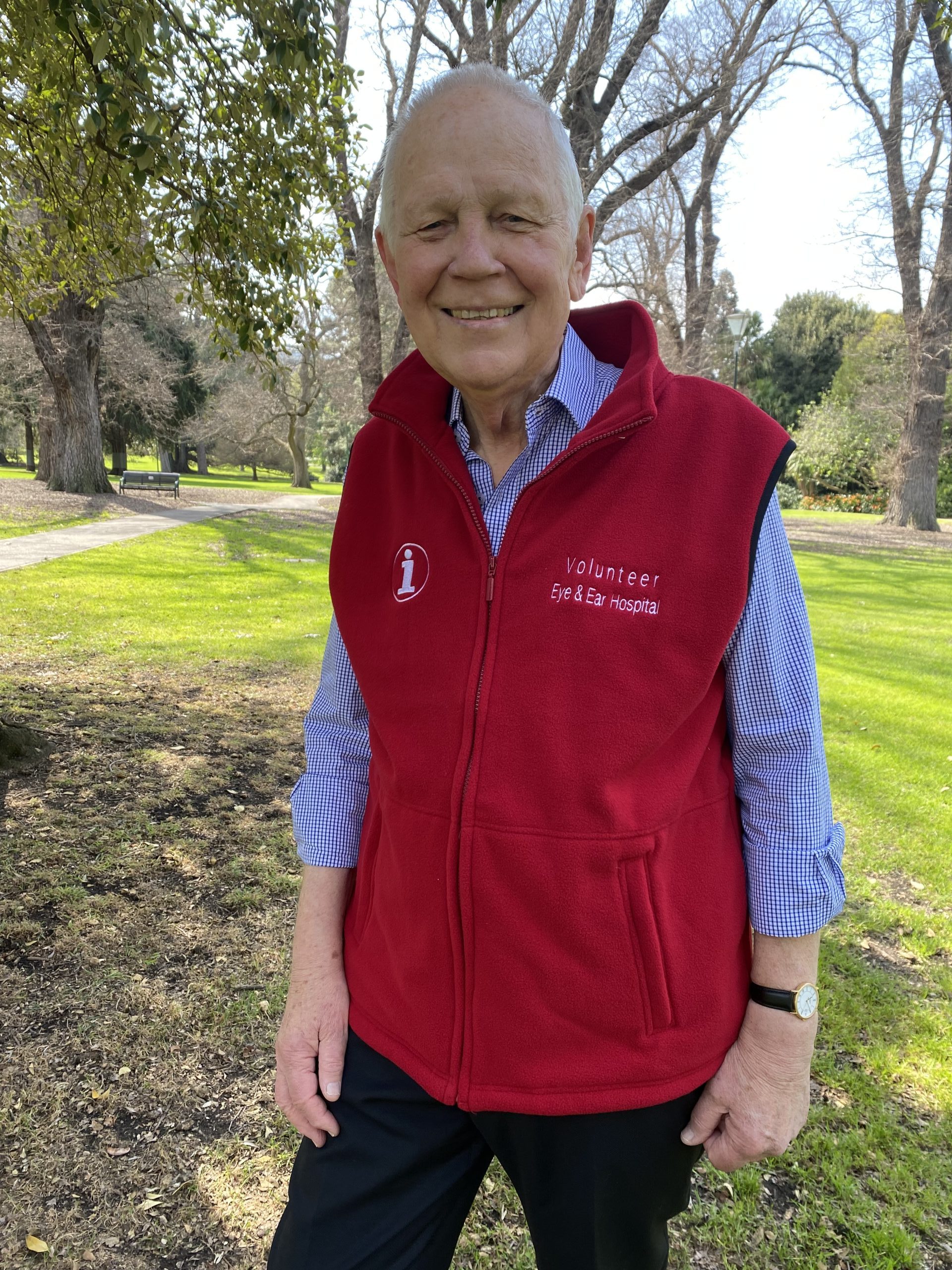 When did you begin as a Consumer Representative at the Eye and Ear?
I joined the Eye and Ear in November 2017. I decided to retire from hospital administration in rural Victoria earlier in 2017 and move back to Melbourne and I was looking for a meaningful voluntary role.
What do you love most about being a Consumer Representative?
I love interacting with staff at all levels and considering important safety issues that sometimes impact patients.
What made you get involved as a volunteer?
I was aware that the system for reviewing patient safety was something that all hospitals in Victoria do and I wanted to contribute to ensuring patient interests and quality of care were considered when examining potential safety issues.
What would you say to someone considering becoming a volunteer or a Consumer Representative at the Eye and Ear?
If you are looking to do something meaningful in retirement, providing support and comfort to patients and visitors attending the hospital and building camaraderie with other volunteers is very satisfying.
In addition, being a Consumer Representative enables you to get involved in service delivery in the hospital and engage with the staff to ensure the interests of the patient are being considered when safety issues are reviewed.
Interested in finding out more about volunteering or joining our consumer register? Please contact Betty Tellis on 03 9929 8658 or email betty.tellis@eyeandear.org.au.
Peter's story featured in the Spring Edition of Sight + Sound.