The Royal Victorian Eye and Ear Hospital is proud to officially open their Welcome Space for all to enjoy.
"The development of a culturally safe welcoming space for Aboriginal and Torres Strait Islander patients, families, carers and all patients and staff at the Eye and Ear is important as it strengthens, supports and recognises our commitment to reconciliation," says Aboriginal Health Liaison Officer, Carleen Miller, proud Taungurung woman.
"Aboriginal people are traditionally very visual. Art has been used for many thousands of years to pass on stories of creation and dreamtime from generation to generation. Our mural installation will create an atmosphere of cultural safety and support community to feel welcome when attending the hospital."
Dr Rosie Dawkins, a vitreoretinal surgeon at the Eye and Ear, has worked extensively with Aboriginal communities through our partnership with the Victorian Aboriginal Health Service (VAHS) in their ophthalmology clinic.
"The Eye and Ear Hospital is very proud of the work we do in Indigenous people's health. We have clinics on site in an Aboriginal Community Controlled Health Organisation, and now the Welcome Space is available at the hospital. We want Indigenous people to know that their health is our highest priority, and that their care will be gold standard. This includes cultural safety, as well as specific medical treatment," she says.
Peter (he/they), a proud Ngarigo person, was adopted from a young age and was unaware he had hereditary glaucoma until a routine eye test detected the disease. Earlier this year Peter was told that their glaucoma was no longer treatable by eye drops and laser and that surgery was now the only option.
"I was really worried; it was an intense time. There were more challenges than I care to think about."
As a visual artist and a healthcare worker, Peter's sight is everything. "I am part of the LGBTIQ+ community. My art is my soul food and how I express myself best."
Peter has been a regular patient at the hospital for over a decade and has had firsthand experience of the care provided by the Aboriginal Health Liaison Officers. "Carleen and Nat have been supportive; even sitting in with me for appointments. Sometimes the news isn't good and you need some support. Without them I would just feel like a number in the system."
Peter is a member of the Eye and Ear's Reconciliation Action Plan Working Group and feels the Welcome Space and Mural will be very beneficial for the community.
"It is part of our culture to come together. The Welcome Space is a place to feel connected to; it says we matter. We are part of the landscape."
As a visitor to Wurundjeri land, they are aware to tread lightly and respectfully.
"The Mannagum leaf is a symbol of welcome, we are taught that, so when we see it we know we are welcome"
The Welcome Space Mural depicts the Mannagum Leaf – Boon-marrit-tak gooreen Biik, Boon-marrit-tak gooreen gulinj (Healthy Country, Healthy People) and was painted by Wurundjeri artist Mandy Nicholson and replicated and installed by artists from The Torch – Ash Thomas (Yorta Yorta, Wiradjuri), Peter Thurlow (Palawa/Gunaikurnai) and Sean Miller (Gamilaroi).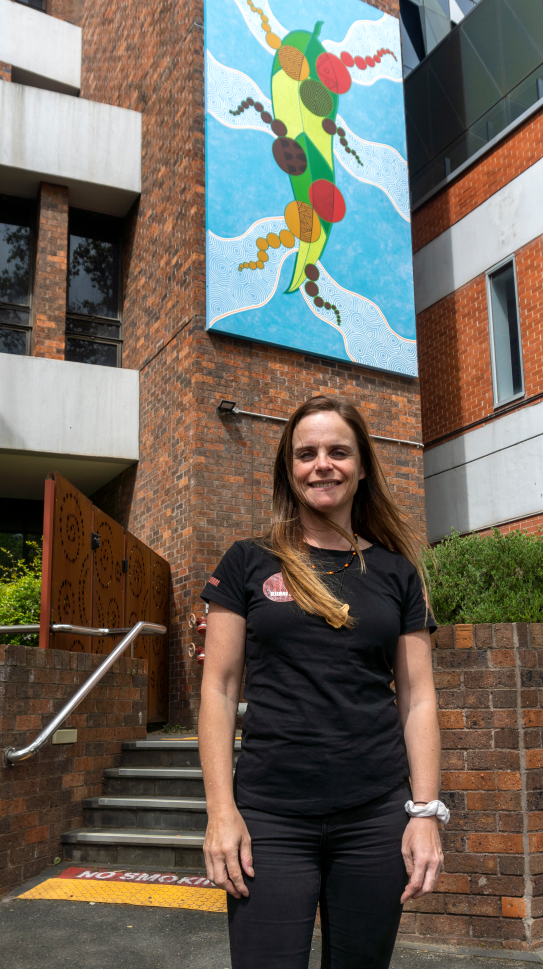 Wurundjeri artist Mandy Nicholson standing in front of her painting turned mural

"Working on the Royal Eye and Ear Hospital mural was a real honour for me, we really wanted to be very respectful in reproducing Mandy Nicholson's Mannagum Leaf artwork accurately. It was a real learning curve that I enjoyed so much" says The Torch artist, Ash Thomas.
Mandy visited the artwork upon its completion, and was thrilled by The Torch's replication of her original work "They've done it perfectly, just exactly like I did it in the original. So, I'm really, really happy."
"I'm really excited that it's up because the artists contacted me…following protocols and things like that. So, it's [been] really a good process and they've nailed it."
The brilliant green Mannagum leaf symbolises the welcome of visitors from the Woi Wurrung and the leaves are used in all smoking and welcome ceremonies.  Embedded in the leaf of Mandy's art are circles depicting the continuation of cultural practices and ceremony today and the sharing of our cultures with others.  The waterways symbolise the waterways that run into the Birrarung (Yarra) and become one, so we begin our shared history of Melbourne.