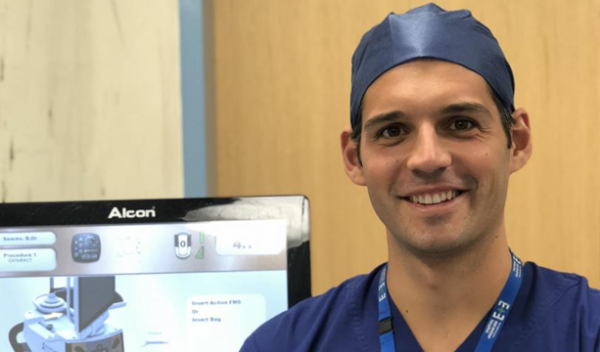 Dr Bernardo Soares is one of our Ophthalmologists positioned in the Glaucoma Unit, working predominately on complex glaucoma and cataract surgeries, ophthalmic teaching and surgical training of future colleagues as well as community collaborative care. Dr Soares is passionate about improving our patients quality of life and finds it incredibly rewarding to establish long-term rapport with glaucoma patients, as it is a chronic disease and often requires lifelong follow up.
This World Glaucoma Week, we caught up with Dr Bernardo Soares to discuss his role with us at the Eye and Ear and the importance of building awareness of glaucoma early detection.
How long have you been working at the Eye and Ear?
Have been at Royal Victorian Eye and Ear Hospital for over 5 years now working in the Glaucoma Investigation and Research Unit as well as the Surgical Ophthalmology Unit. Also a member of the Hospital Ethics Committee and the Younger Fellows Victorian representative for RANZCO (Royal Australian and New Zealand College of Ophthalmology).
What's your favourite thing about working at the Eye and Ear?
The people. Being able to work and interact with people from diverse backgrounds who all are striving to achieve the best patient outcomes possible under the banner of diversity and inclusion.
Why is it important to build public awareness on Glaucoma?
Known as the 'silent thief of sight' glaucoma develops slowly and often without any symptoms, leaving people undetected until the disease reaches an advanced stage. Left untreated, it can cause vision loss and may even lead to blindness. This is why we need help to spread the word and raise awareness. That is why we as an institution encourage all Australians to be more aware of their eye health and the importance of regular eye health checks. Early detection can save sight.
Top three facts about glaucoma.
2 in 100 Australians will develop glaucoma in their lifetime
50% of people with glaucoma don't know they have it
You're 10x more likely to develop glaucoma if a direct relative has it
Learn more about glaucoma here.