Your tax-time donation today can help us give more families access to the life-changing work of the Cochlear Implant Clinic. Read more about one family's experiences below.
Call 1800 808 137 or email fundraising@eyeandear.org.au to donate now.
When Knox was 8 days old, his parents found out he was profoundly deaf in one ear, and severely profoundly deaf in the other.
At two weeks old, tests showed that Knox was born with Congenital Cytomegalovirus (CCMV), an infection that can cause a range of health risks for unborn babies. For Knox, this virus caused his hearing loss.
Knox was referred to us at the Eye and Ear Hospital before he was six months old. At just 9 months old, baby Knox had surgery to receive cochlear implants for both ears.
"He was a baby… I definitely broke down. And that was the longest five hours of my life waiting to see how he went," Shanie remembers.
The Cochlear Implant Clinic gives Victorians with severe or profound hearing loss access to innovative technology to improve their quality of life and overcome the barriers, isolation and frustration they face as they navigate everyday life with a severe hearing impairment.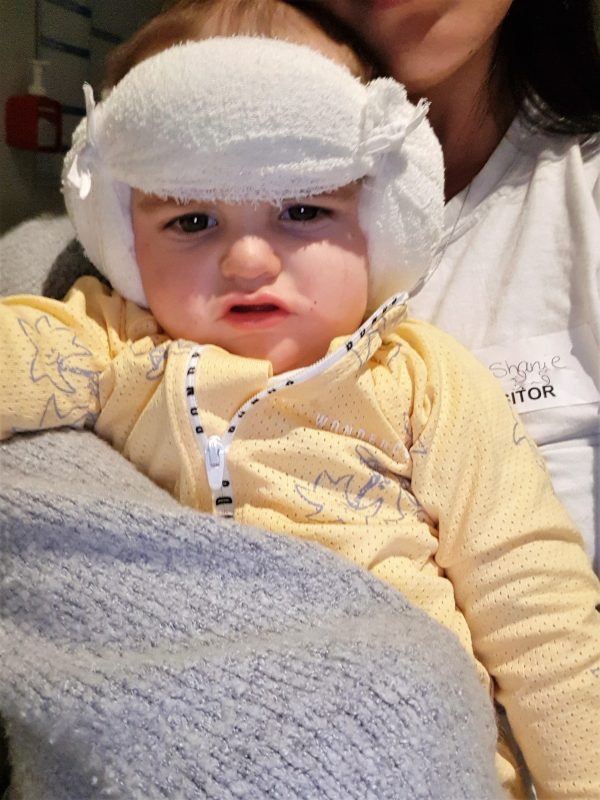 Our Cochlear Implant team worked with Shanie and Andy, supporting their goal of a bilingual future for Knox and developing a plan to get him the best of both worlds his parents were striving for.
"It makes the decision easier when you don't have to fight for it… they supported us through that," explains Shanie.
Dr Claire Iseli, who conducted the surgery on Knox, explains the huge potential of combining Auslan with cochlear implants.
"By combining Auslan with the teaching of oral language in the early years, our patients receive a complete spectrum of communication… using the sign equivalent has the potential to connect them more strongly with our wonderful deaf community."
Now, at two years old, Knox uses sign language as his first language to communicate.
Knox's story is one of triumph. The teamwork between his incredible parents, the specialists at the Cochlear Implant Clinic, the audiologist and speech therapist has given Knox every opportunity to thrive.