For 160 years, the Royal Victorian Eye and Ear Hospital has provided the highest standard of patient care for the Victorian community and beyond. As Australia's only dedicated eye, ear, nose and throat hospital, around 250,000 patients seek our specialist services in a typical year.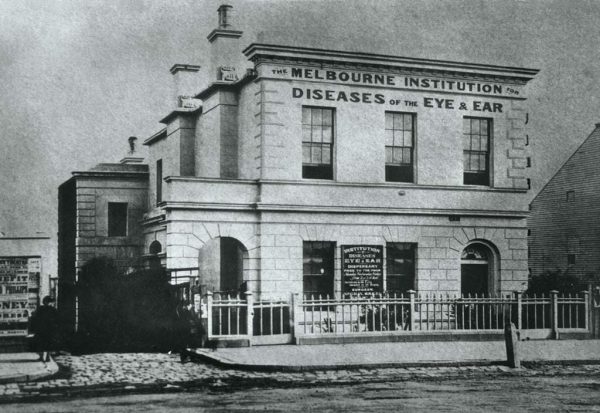 Historic image of the Eye and Ear hospital taken in 1873
Hospital founder, Dr Andrew Sexton Gray, arrived in Melbourne from Dublin, Ireland in 1859 after 5 arduous months of sea travel and began work as a surgeon and oculist.
During his work, he noticed there were large amounts of poor patients with eye and ear injuries that were unable to pay for treatment. Because of this, in 1863 he decided to open an Infirmary for Diseases of the Eye and Ear where patients could be treated by paying what they could afford.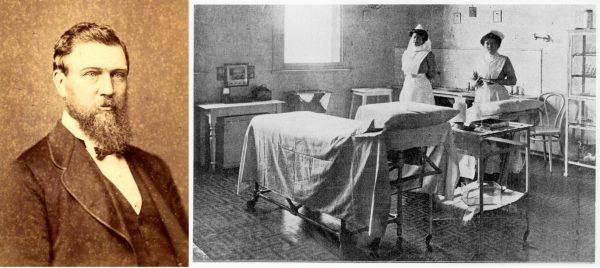 Left image: our founder Dr Anrdrew Sexton Gray. Right Image: two nurses standing in our operating theatre in 1915
From these humble beginnings, the Infirmary became Victoria's third public hospital in 1866. Just shy of a century after opening, the hospital obtained Royal Charter from Queen Elizabeth II in 1961 and became the Royal Victorian Eye and Ear Hospital you know today.

Left image: Professor Graeme Clark standing with Queen Elizabeth II. Right image: an audiologist performing a hearing test on a young boy in 1966
Rich with history, the Eye and Ear has witnessed growths in population, royal visits, medical advancements and watched Victoria evolved into the thriving community it is today.
We are incredibly proud to have served our community for the last 160 years, and look forward to continuing to care for your senses with a redeveloped and state of the art hospital precinct.


Left Image: Professor Robert Briggs sitting next to a young patient. Right Image: Ophthalmologist performing bionic eye surgery
Interesting facts
Did you know Andrew Sexton Grey was the great great great Grandfather of popular Australian actor Simon Baker whose story was recently profiled in the SBS program "Who do you think you are?" Watch here https://www.sbs.com.au/ondemand/watch/2038526531584 [registration required].
Whilst studying in Ireland Dr Sexton Grey was a pupil of Sir William Wilde, an eminent oculist of the day, who was also the father of the famous writer Oscar Wilde.