On International Women's day, we highlight two of the many amazing women working at the Eye and Ear who are leaders in their field.
With a combined experience of over 40 years working at The Royal Victorian Eye and Ear Hospital (Eye and Ear), ophthalmologist Dr Jacqueline Beltz and audiologist Dr Jaime Leigh have achieved a lot in their respective fields, with both also dedicating their time to teaching and training the next generation alongside their everyday roles.
We spoke to both of them about what they hope to see in gender equity in the workplace, and the role the women before them have had in shaping their careers.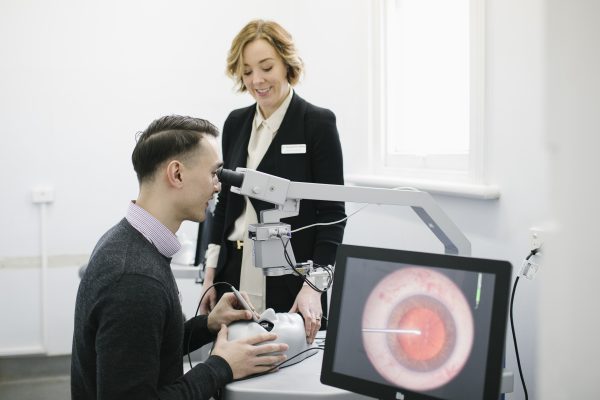 Dr Beltz during GENEYE training
Dr Jacqueline Beltz is a cornea, cataract and refractive surgeon and staff specialist at the Eye and Ear. She is also the Director of GENEYE, and education program for the Eye and Ear, Deputy Medical Director of the Lions Eye Donation Service and holds a research position at the Centre for Eye Research Australia (CERA).
"On a daily level, I choose to admire powerful women in leadership from both inside and outside of my industry.  Role modelling, mentorship and general support from both male and female colleagues have been extremely important to my career progression.  I love seeing and supporting the powerful next generation of ophthalmologists coming up behind me and hope that they feel empowered to achieve their personal bests."
"Together we can continue to improve our medical culture as we strive for gender equity in our industry. Everybody associated with health care needs to be aware of the biases that exist in our industry, including the unconscious.  Every single one of us, whether male, female or non-binary, needs to stand up and commit to making changes toward gender equity in the medical profession. "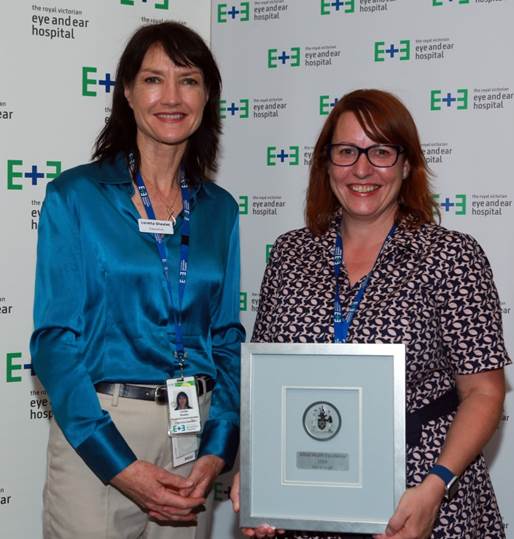 Dr Leigh receiving an Excellence Award at the Eye and Ear
Dr Jaime Leigh is a Senior Clinician in the Cochlear Implant Clinic, the Clinical Lead for the Victorian Cochlear Implant Program, holds a Research fellowship at the University of Melbourne and is actively involved in the education and training Master of Audiology and PhD students at the University of Melbourne.
"For me, equity means not just having a seat at the table but feeling like I belong there. I am incredibly grateful to the women who have walked the healthcare leadership path before me because these women continue to inspire me to innovate, challenge the status quo and lead with empathy."
"And I hope to be a role model for younger women, who may right now be tearing their hair out wondering how they will ever balance work and family responsibilities. Striving for equity in the workplace and home is a challenge worth pursuing, not just for ourselves but for the next generation."
The Eye and Ear Hospital are proud to have an Equity and Inclusion Coordinator and Gender Equality Action Plan in place which you can read more about here.